Which takes more courage: to lead a 11 person team deep into enemy territory, or to stand up to your own dysfunctional organization to try and fix it?  I know someone that has done both.

Jason Amerine went to congress to try and get the Hostage rescue efforts in sync between the FBI and the Army.This lead to the Hunter Hostage amendment.

The people that he was trying to rescue were aid workers in Afghanistan. People who work for organizations like DAI, where my sister works. While she has never been in harms way (tat least, not that she's told me,) DAI has lost people in Afghanistan. This is where my worlds come together. This is not theoretical.
We owe it to our citizens abroad to bring them home if they get taken hostage, not accidentally kill them in air-strikes. I can't help but think that Jason  is advocating this because of his own history.
Back in 2001, Jason was a Special Forces A team commander.  His was the team that brought Hamid Karzai back in to Afghanistan, in an effort to displace the Taliban.  His team was struck by friendly fire, killing two of the team members, wounding several others, including Jason.  Karzai had stepped out of their headquarters, or he would have been in the blast radius, too.  The error was not one of malice, but of poor communication.
If you want to know more, you can read the book.
He is, as far as I know, the only one of my classmates to appear on the Colbert Report
He is, as far as I know, the only member of our class to have his own action figure, too.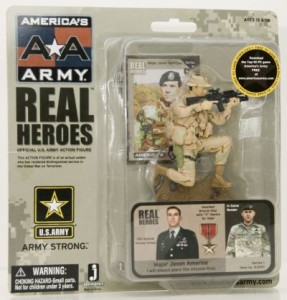 Jason did not let the SF community cover up the fact that they had messed up.  In doing so, he got himself drummed out of Special Forces, and, instead, went back to West Point to teach.   When I congratulated him on making Lieutenant Colonel, he told me that he knew that was as far as he would go in the Army.  He was supposed to retire this year, but his retirement is held up by the ongoing investigation into him. He is still on active duty, but the Army has stopped paying him.
Jason opened an Inspectors General (IG) complaint about some of the other reports given to congress not being true. I suspect that this is the real reason he is under investigation. Not that he went to congress, but because he was trying to hold the people that serve in the Army to the standard.
The West Point class of 1993 has closed ranks behind him: we feel his is being punished "choosing the harder right over the easier wrong" and not backing down. Currently, we are encouraging people to sign a White House petition of support for him. Personally, Jason is a friend. We had multiple classes together, most memorable being an English class that lead to some very interesting debates. He's one of the people I've looked forward to talking to at my reunions, and someone that I can unequivocally support.
You should know his story.