After calling for Keystone to migrate to HTTPD, several people asked me if I would show how this can be done. Here are the steps.

Update 2; See a more recent article here: http://andymc-stack.co.uk/2013/06/apache2-mod_wsgi-openstack-pt1-keystone/ which is based on the info below. The below article goes into more detail. This is a moving target, and I would recommend reading both articles.
Update: in testing keystone, you need to change the username from demo to admin as per the export lines near the bottom of this page.
A prerequisite is to set up NSS HTTPD SSL support. We can use it in conjunction with Keystone to provide encrypted access for authentication and authorization.
I created a file to enable wsgi:
/var/www/cgi-bin/keystone/keystone.py

import os
from keystone import config
from paste import deploy
from keystone.common import logging
from keystone.common import utils
from keystone.common import wsgi

LOG = logging.getLogger(__name__)
CONF = config.CONF
config_files = ['/opt/stack/keystone/etc/keystone.conf']
CONF(config_files=config_files)

conf = CONF.config_file[0]
#name = 'admin'
name = os.path.basename(__file__)

if CONF.debug:
    CONF.log_opt_values(logging.getLogger(CONF.prog), logging.DEBUG)

options = deploy.appconfig('config:%s' % CONF.config_file[0])

application = deploy.loadapp('config:%s' % conf, name=name)

And I hardlinked it:

cd /var/www/cgi-bin/keystone/
ln  keystone.py admin
ln  keystone.py main

This is based on a Fedora devstack deployment, which checks out the code in /opt/stack/keystone. I ran against master from git, which as of this writing should be the same as the next Essex RC. I ran python setup.py install with this, which gave me the installed egg in
/usr/lib/python2.7/site-packages/keystone-2012.2-py2.7.egg.
Since eggs deployed this way are part of the default Python path, it is usable by WSGI applications in Apache.
To run against the Fedora RPMs, the difference would be to read in the config file /etc/keystone/keystone.conf instead.
I've changed /etc/httpd/conf.d/keystone.conf to

WSGIScriptAlias /main /var/www/cgi-bin/keystone/main
WSGIScriptAlias /admin /var/www/cgi-bin/keystone/admin


   NSSRequireSSL



   NSSRequireSSL



and restarted httpd. To test: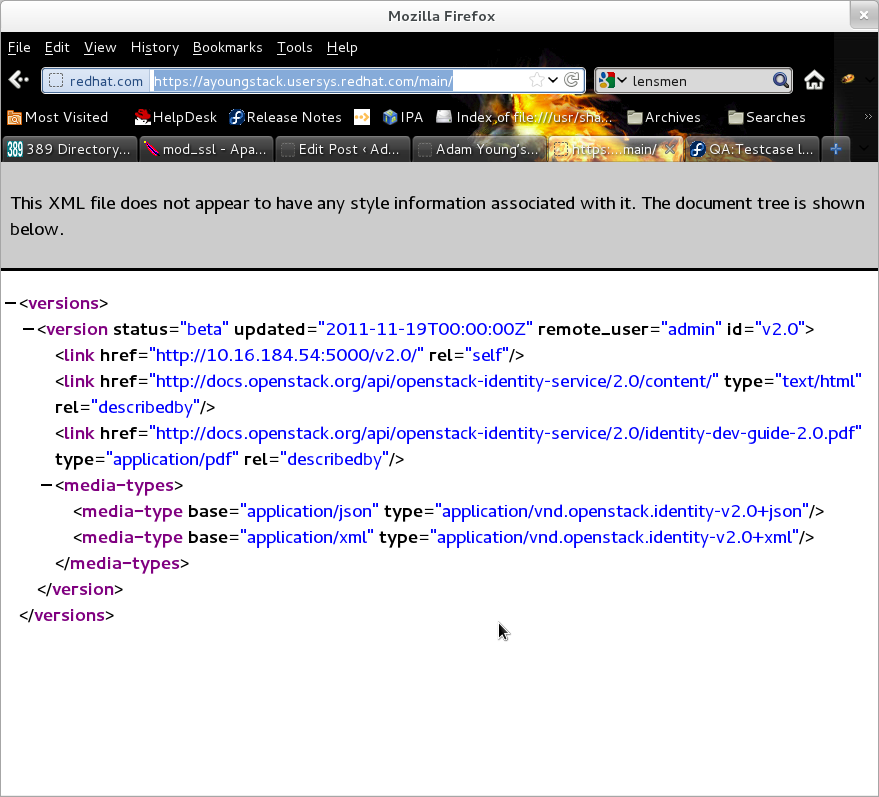 The most straightforward way to test Keystone is via the command line interface (CLI). When running via devstack, the normal approach is to source the environment file:
. openrc
which pulls in the localrc. This sets many values, including the URL to be used when the Keystone CLI talks to the server: OS_AUTH_URL. Typically this is set as some variation on the local hostname and the port 5000. It also sets the username to demo To test HTTPD, change this to:

export OS_AUTH_URL=https://$HOSTNAME/admin/v2.0 
export OS_USERNAME=admin

However, running the command line client gave an error:

[ayoung@ayoungstack devstack]$ keystone user-list
No handlers could be found for logger "keystoneclient.client"
Invalid OpenStack Identity credentials

Looking in the access log, I saw the token request was succeeding (returned 200) but the second request failed with unauthorized (401).
One difference between Eventlet and the Fedora build of HTTPD is that each request in HTTPD is handled by a separate process. This is called prefork, and you can test a given install by running

[ayoung@ayoung keystone]$ httpd -l
Compiled in modules:
  core.c
  prefork.c
  http_core.c
  mod_so.c

To see the built in modules. The default way that Keystone stores Tokens is by using a key value pair storage. You see this in the keystone.conf file.

[token]
driver = keystone.token.backends.kvs.Token

By changing this to the SQL store, the tokens are now accessable by other processes, including the ones that will handle follow on requests to Keystone.

[token]
driver = keystone.token.backends.sql.Token

And now the keystone CLI works:


[ayoung@ayoungstack devstack]$ keystone user-list
+----------------------------------+---------+--------------------+--------+
|                id                | enabled |       email        |  name  |
+----------------------------------+---------+--------------------+--------+
| 6d42897928974d469a4223302e6bae4a | True    | admin@example.com  | admin  |
| 72f2941c7e3e40b292d50bd8b1662899 | True    | demo@example.com   | demo   |
| 92556c2d36de4f46a0a9916d96d2e793 | True    | glance@example.com | glance |
| e452d5f649ed489c8b84b8192e781263 | True    | nova@example.com   | nova   |
+----------------------------------+---------+--------------------+--------+